Post by Admin on May 12, 2018 15:24:13 GMT 1
Group H Special Cars. An "unknown" category!!
Group H Special Cars
A variety of vehicles of Hill Climb and Track Event races all over the world but mostly in Europe.Are made up of Touring Cars, Formula type cars,Rally Sport cars,Group 2 or 5 category, which were no longer wanted from this time onwards, were not given the final "death penalty", but a catch basin called Group H was created for these inconveniences.This provides an attractive variety for the spectators.The Group H Special Car Championshipa are one of the best-loved, motor racing championships in the world.

Group H Special cars are older car platforms,transformed to modern race cars,an open category not homologated,with powerful engines (300-900hp atmo or turbo, the BHP may seems unrealistic for some people, but it's not),modern suspensions and brake kits,sequential racing gearboxes and upgraded limited slip differentials,which reminds nothing of the Historic Group H category.

**So in order to have a decent virtual Group H Special Championship we will use engines from 320hp to 460hp.
---------------------------======================-------------------------
Some of the 21 cars that will be used in our virtual Group H Special Championship
MK1 Escort RSR-8

Description:

This is a unique opportunity to by a one off fully FIA prepped escort mk1 rsr8. The car has done time attack all over the uk and won at various events it is absolutely stunning to look at. Reason for sale is genuine have no time and other commitments if i could keep for years to come i would.
Brief spec

-fully space framed with fibre glass body

-radical performance engine 2.8ltr v8

-life racing f88 ecu

-flat shift and paddle shift

-laminova oil cooler

-full simpson exhaust system

-quaife g60 6 speed sequential gearbox

-quaife differential

-dash 2 pro digital

-launch control traction control

-fuel cell

-dry sump

-coilover suspension

-fully space framed

-carbon fibre fia tillet seat with harness

-magnesium wheels x2 sets one slick one wet tyres

-plumbed in fire system

-6pot wilwood breaks

-built in camera system

-built in lap and throttle response breaking etc system

-blip down throttle shift

-carbon cannard spoilers splitters through out including door trims and carbon bracing.

build cost well over £100.000 there is too much to list viewing highly recommended.



So to sum this up the car is all together ready to race. The car has been built and prepped to the highest standard and the attention to detail is out of this world this is a very fast car weighing 770kg at 440bhp in the right hands unstoppable.

Alfa Romeo 75 - 2.5L Busso V6

Engine
Configuration 60º V6
Location Front, longitudinally mounted
Construction light alloy block and head
Displacement 2,498 cc / 152.4 cu in
Bore / Stroke 93.0 mm (3.7 in) / 61.3 mm (2.4 in)
Compression 12.5:1
Valvetrain 4 valves / cylinder, DOHC
Fuel feed Weber Marvelling Fuel Injection
Aspiration Naturally Aspirated
Power 440 bhp / 313 KW @ 11,500 rpm
Torque 294 Nm / 217 ft lbs @ 8,000 rpm


Drivetrain
Chassis unitary steel
Suspension (fr/r) transverse arms, McPherson struts, coil springs, telescopic dampers, driver adjustable anti-roll-bar
Steering rack-and-pinion, power assisted
Brakes ventilated discs, all-round
Gearbox 6 speed Sequential

Weigh 1,020 kilo (1,100 kilo +dr)


FIAT 131 ABARTH 035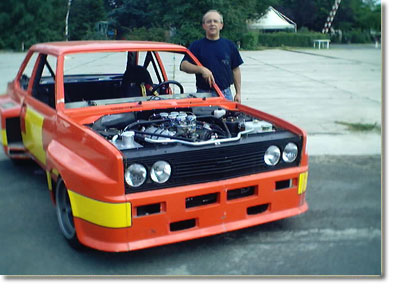 .:: SE 031 3500 V6- DATI TECNICI - 07/1975 ABARTH ::.
.:: MOTORE ::.
Posizione Longitudinale, anteriore
N° cilindri V6
Alesaggio/Corsa 102 x 71 mm
Cilindrata Totale 3480,6 cm3
N° di valvole 4 per cilindro 2 aspirazione+2 di scarico, DOHC
Rapporto di compressione 10.9:1
Potenza 422 HP / 9250 rpm
Coppia Max. 34.9 kgm (342.5 Nm) / 7500 rpm
Impianto di scarico Di tipo speciale realizzato appositamente in Abarth
Raffreddamento Ad acqua con radiatore frontale
Lubrificazione Carter secco - Radiatori per olio laterali



.:: RUOTE ::.
Cerchi anteriori In lega di alluminio 8.5x15
Cerchi posteriori In lega di alluminio 10x15
Pneumatici anteriori Pirelli 225/40x15
Pneumatici posteriori Pirelli 255/35x15

Porsche 964 RSR - 3.6 (1992)

3.6 L M64/01

ENGINE

Type: horizontally opposed, , rear-mounted
Bore/stroke: 100 x 76.4 mm
Cylinders: Six (6)
Total displacement: 3600.00 cc
Compression ratio: 11.3 : 1
Maximum power: 435 hp at 7000 rpm

OPEL ASCONA-MANTA ENGINES-3000 Evolution 500

Tuner Eggenberger
Country D
Year 1991
Engine Opel
Engine Type L6
Cams 2
Valves/cyl 4.0000
Compression "11,4"
Bore 95.500
Stroke 69.800
Capacity (cc) 2994
Power (at revs) 415 HP/9000
Torque 350 Nm/6200

-----------------------=================-----------------------
Car list that we will use at our Group H Special Championships in rFactor2

1) ALFA ROMEO 75 Busso
2) BMW 2002tii
3) BMW E36 JUDD
4) BMW CSL 3.5
5) BMW E28 M5
6) BMW M1 PROCAR
7) FERARRI 355 CHALLENGE
8] FIAT 131 ABARTH
9) FORD ESCORT MK1 RSR-8
10)FORD ESCORT MK2
11)FORD ESCORT MK2b

12)LADA VTFS
13)LADA 2101 AUTOPLIUS
14)MERCEDES 190E JUDD
15)OPEL KADETT GTE
16)OPEL KADETT PSYCHO
17)OPEL ASCONA 400
18)OPEL MANTA 400 GTE
19)PORSCHE 964 RSR
20)TOYOTA COROLLA LEVIN AE86
21)FIAT /X19
22)SIMCA RALLYE 3

23)NISSAN SKYLINE GTR 1971

* All cars runs in DX11 with no problems

**All cars uses the latest CPM v2 Technology tires Version1.104